What better way to enjoy the summer than with a classic outdoor cook-out! No summer BBQ, campfire, or picnic is complete without these essential grilling tips and products.  
For Starters
Use different plates and tongs for raw and cooked food.

Use different cutting boards

Microwave sponges for a few seconds

Reduce food sticking by oiling your clean, hot grill with an oil soaked paper towel. Hold it with tongs and rub it over the rack.
Marinade with Essential Oils
Use spices, herbs, sauces, and essential oils to create flavorful marinades!
Tip! Marinade tender meats such as chicken, fish, or shrimp for 2 hours or less; tougher meats anywhere from 4 hours to overnight. Refrigerate marinating meats.
Essential oils that fall under the SPICE category include: Black Pepper, Cardamom, Cassia, Cinnamon Bark, Clove, Coriander, Fennel, Ginger, and Juniper Berry. (These are potent oils however, so all that is needed in most instances is a toothpick!)
And of course we cannot forget the classics Lemon and Lime that are perfect for that sweet, tangy taste that compliments grilled meats and veggies so well!
Tame the Flame
Keep a squirt bottle filled with equal parts water and vinegar near the grill to quickly douse any unexpected flare-ups!
Use spices, herbs, sauces, and essential oils like Juniper Berry, Melissa, Thyme and more to create flavorful marinades!
Click To Tweet
Grilling Vegetables
The best vegetables for grilling are: 
Asparagus

Eggplant

Corn

Mushrooms

Onions

Peppers

Zucchini

Tomatoes
Tip! To avoid food sticking to wooden skewers, soak them in water for 20 minutes before grilling. For metal skewers, rub them with oil.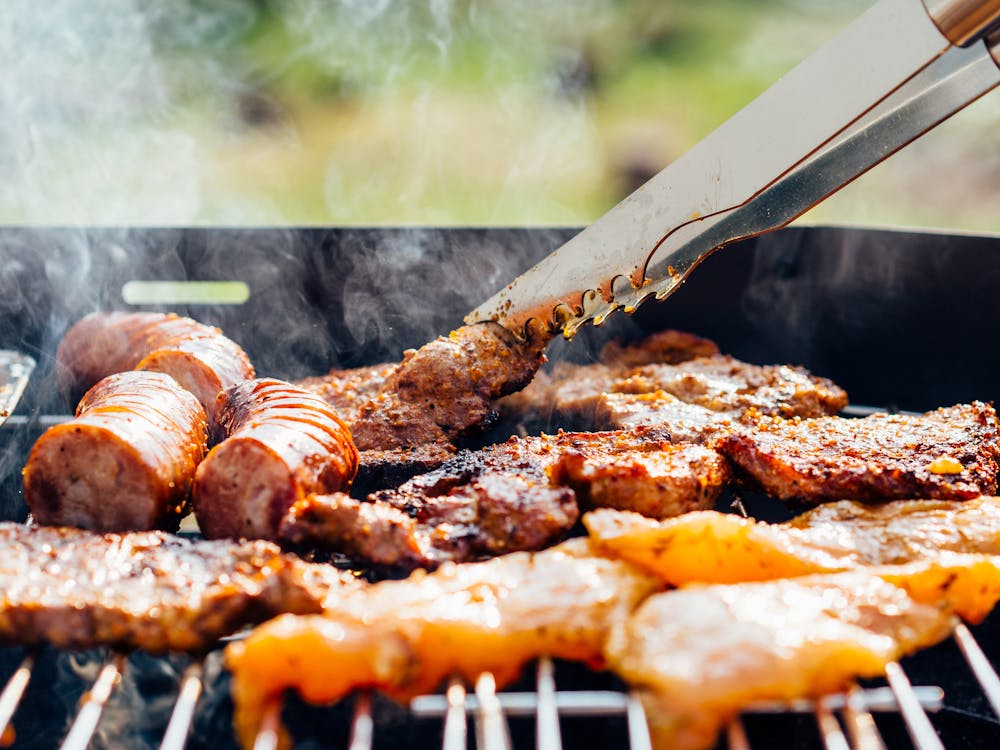 Directions
1. Make infused-cooking oil:  Add 1 to 3 drops of herb or spice essential oils to 1/2 cup of cooking oil (olive oil or melted coconut oil) 
2. Brush fresh veggies with infused cooking oils and sprinkle with salt and pepper to taste.
3. Cook in closed grill over 350 to 400 (medium-high) heat turnin
Heat It Up
Hold your hand about five inches above the grill. If you can hold it there for only 1 second, your grill is at high heat and you're ready to grill.
Grilling Meat
Use and instant-read thermometer to see if your meat is fully cooked. Place it onto the thickest part of the meat.
Safe Grilling Temperatures:
Steaks 145° F
Sausage 165° F
Ground Beef 160° F
Salmon & Shrimp 145° F
Poultry Breasts & Legs 160° F
Grill Cleaner
Ingredients
¼ cup baking soda
2 tablespoons natural dish detergent (such as castile soap)
Distilled white vinegar
Directions: 
1. Combine the first three ingredients and mix.
2. Add vinegar until mixture has an olive oil consistency.
3. Brush mixture onto metal grill and let sit for 15–30 minutes.
4. Use a damp scouring pad or grill brush to scrub surface clean.
5. Rinse with water.