I love eggs! 🙂
Eggs are a huge part of my keto-diet. I love them because they are a perfect balance of nutrients AND they are super easy to cook and transform into a variety of dishes.
Although when I'm in a hurry I love to whip up some quick scrambled eggs with cheese, if I take a few minutes on the weekend to prep, there are several other ways that I like to use eggs — two recipes are for breakfast, and two recipes are for lunch/dinner… but honestly, you could eat any of these any time of day (and I have!)
BREAKFAST:
1. Egg Loaf
The "Egg Loaf" has become an Instagram favorite in the #keto world over the last year. It even has it's own hashtag #ketoeggloaf #eggloaf and many other variations. From what I can tell the Egg Loaf was the creation of @keto.sam.i.am over on Instagram, and after seeing the posts of this "soggy french toast" phenomenon I had to give it a try.
The recipe is simple (as I have yet to ruin a batch – LOL!) and for those of you who like to do weekend meal-prepping, the Egg Loaf easily lasts for at least 5 days in the fridge… but I dare you to not eat it all way sooner than that!!
There are only 5 ingredients in the Egg Loaf: Eggs, Cream Cheese, Butter, Vanilla, and Cinnamon.
And you can easily flex this recipe up and down based on your family's needs.
You start with equal parts of eggs, cream cheese and butter. For example, if you have an 8 oz block of cream cheese, then you combine it with 8 eggs and 8 tbsp of butter in a high-powered blender. If you only have 4 eggs in the fridge then just decrease the cream cheese to 4 oz and the butter to 4 tbsp. SO EASY, right?!
After blending, I add in about a ½ tsp of vanilla, and a generous dash of cinnamon, and pulse to combine.
Then you pour it into a very well buttered baking dish – I use a glass 8 x 8 inch baking dish and line it with parchment paper. If you skip this step, just know it will stick to your dish a little bit, but you can always lick the pan later, right? 😉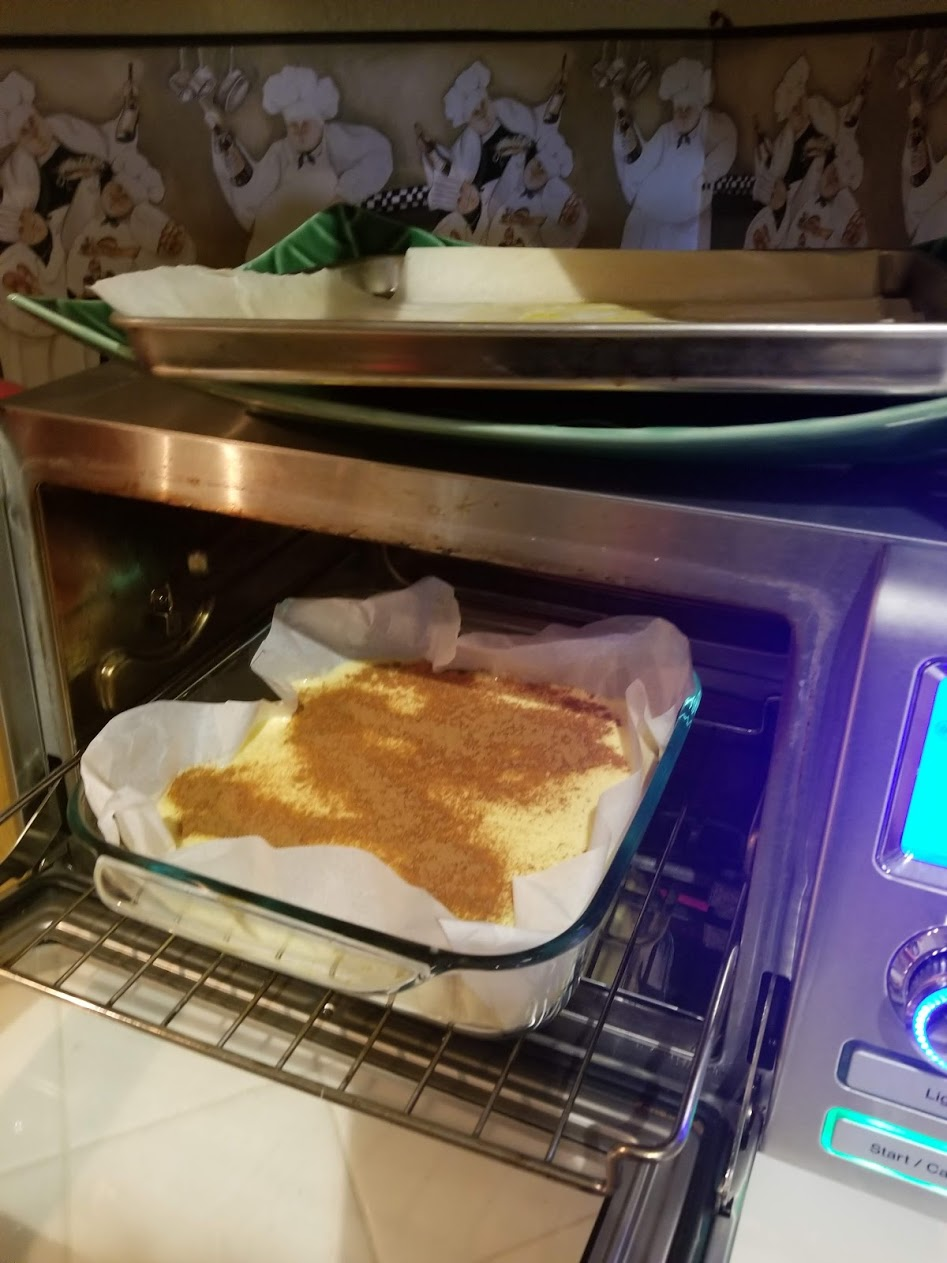 I sprinkle more cinnamon on top and then bake at 350 degrees F for 20 to 30 minutes. It will look like it is doing nothing for at least 15 minutes, then it will begin to rise and fluff up like a souffle! You really can't over-bake it, but I take it out when a knife inserted in the middle comes out clean. It's normal for it to rise and crack. Remove from the oven and allow to cool for a few minutes (if you can) before diving in. Seriously, how delicious does this look?!!
Now the next part is really up to you… I urge you to have a little bit of restraint and not eat it from the pan immediately as it comes out of the oven, but it honestly does smell like baking french toast so I know you'll be tempted to at least sample a few bites!
You will want to slice the "loaf" in to 6 to 10 pieces (think fast-food french toast dippers) but depending on the type of pan you used you might be able to slice it more like bread too. You can eat it as is, which is what I usually do, or you can take the slices and throw them in to a hot skillet and "grill" them up just like you would slices of french toast… YUMMMMM!!!
If you are into sugar-free syrups there are several maple flavored ones at the supermarket or online, but mostly I just eat it without anything else added. I cover and store in the fridge, and reheat for just 20 or 30 seconds in the microwave and breakfast is served!!
2. Baked Egg Cups in Muffin Tins
There are so many names for "Egg Cups" — a quick look on Pinterest and I found Breakfast Egg Muffins, Crust-less Quiche, Scrambled Egg Muffins, Make Ahead Eggs — But no matter what you call "egg cups" they have been a staple of my meal prepping since I was introduced to them in the South Beach Diet book at least 10 years ago and they just stuck.
There are endless ingredient combos and inspiration on Pinterest, but here are just a few of my favorites:
Bacon and Cheese
Spinach and Mushroom
Ham and Cheese
Meat Lovers
Veggie Lovers
You get the idea…
Check out these awesome combos and full recipes at:
https://lifemadesweeter.com/breakfast-egg-muffins/
LUNCH AND DINNER:
I'm going to lean on my favorite Keto bloggers over at Keto Connect for these next two recipes…
3. Egg Salad
Don't let the idea of boiling eggs stop you from adding these to your weekly routine.
Costco and Trader Joe's sell organic hard boiled eggs that are already peeled and packaged for easy use or on-the-go snacking. I like the Costco ones better since they pack them in little packages of 2 eggs per pouch and are great to throw in my bag on the way to the airport. But if you have more time on your hands, I suggest boiling them yourself to save tons of money and of course, reduce waste by not having to throw away the plastic wrapper.
How to Perfectly Hard Boil Eggs:
If you have an Instant Pot and have not used it to boil eggs, then you are truly missing out! Click here to check out instructions.     https://www.dadcooksdinner.com/instant-pot-hard-boiled-eggs-or-is-the-5-5-5-method-a-myth/
https://amindfullmom.com/instant-pot-hard-boiled-eggs/
2. If you don't have an Instant Pot (yet) or prefer to not get it out, then click here for perfect boiled egg instructions.  https://www.foodnetwork.com/recipes/food-network-kitchen/deviled-eggs-recipe-1973562
Once you have your eggs ready — check out this video for Megha's Egg Salad Tutorial!
https://www.youtube.com/watch?v=vXVuv2XAhvo
4. Keto Enchiladas with Egg Tortillas
I have to admit, when I am in Mexico I allow myself 1 flour tortilla (11 carbs) a day!!
But when I'm home, I love making this recipe by Keto Connect: https://youtu.be/a9oe6SYpJ60
Full recipe here: https://www.ketoconnect.net/keto-enchiladas/
I've made this recipe several times and mixed it up a bit each time based on what I have in the fridge.
I made a Chicken Enchilada version: For the filling, I used one 10 oz canned cooked chicken, poured in ¼ cup enchilada sauce (you will use the rest to smother later), ¼ cup shredded cheese (again you'll use the rest on top later), 2 to 4 tbsp of sour cream or softened cream cheese and mix.
Follow the rest of Matt and Megha's instructions and you'll have perfect enchiladas! These are great to bake ahead, freeze and store well in fridge for several days.
What is your favorite way to eat eggs? Fried, Scrambled, Poached, Hard Boiled, Soft Boiled, Sunny Side Up, or Over Easy... 🙂
Click To Tweet